G.E.S.
---
Art of Advertisement
We can choose not to be persuaded. When viewing his panorama pics on the screen, the spotter only noticed that this was his best shot
The Depth Approach 26-05-2002 and 17-05-2004
The packaged soul ?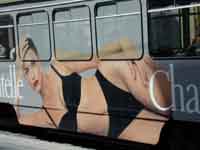 Built-in sexual overtone - seen on a tram in the City of Ghent
---
Copyright © 2002 [G.E.S.]. All rights reserved.
Revised: April 05, 2005 .